USA/Canada Launches Pastoral Connection, Search Tool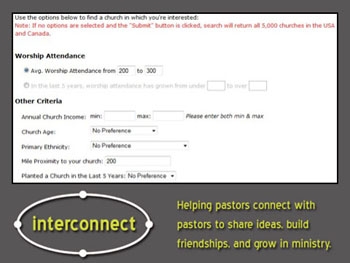 After a year of development, the Church of the Nazarene's USA/Canada Region released the InterConnect pastoral connection tool. InterConnect is a sophisticated online church search tool.
The primary way pastors learn and grow in ministry is through peer relationships. InterConnect can sort all USA/Canada Nazarene churches according to user-selected criteria. Upon finding a church of interest, the user may contact the pastor of that church.
Here are several searches that are possible with InterConnect:
Find a church that began five years ago at the size your church is now that has since gained 50 new worship attendees.
Find another church of your size that has planted a church.
You are a wealthy church with dwindling attendance, or a church with a small budget and many attenders. Find another church like yourself on the USA/Canada Region.
The tool is available through Vibrant magazine's website. The project was a collaboration of Evangelism Ministries, Nazarene Research Services, and the Global Ministry Center's Information Technology Department.
Originally published in NCN News