SAY IT LOUD: a theme for Black history!
By Dr. Charles A. Tillman, Sr., Black Ministries Facilitator

Fifty-five years ago, James Brown proudly sang these words, "Say it loud, I'm Black and I'm proud," at a tumultuous time for an American society still coming to grips with change. This change would usher America from the Jim Crow era into a new era of equality and justice for all. This change was underscored and propelled by the turmoil and unrest of an American society reeling from the mid-to late 1960's assassinations of three major civil rights leaders: Medgar Evers, Malcolm X and Martin Luther King, Jr. The racial climate in the country was indifferent, dangerous, and very toxic, to say the least.
Brown's song stood for black empowerment and self-reliance for a race of people that had long been disenfranchised and discouraged. It stood for the notion that Black people deserved their fair share in a country that they helped to build. It was a cry for the right to pursue the American dream of life, liberty and happiness, unhindered by societal, structural, economic, and racial bias. Many of the leaders of the 1960's movement is now gone. But we should take a moment to take inventory of the progress we have made since then.
A woman of color now occupies the second highest office in the land, the Vice-Presidency of the United States. An African-American man has held the highest elected office in the land. Black Americans and people of color are able to participate in all major professional sports. Blacks and people of color hold prestigious positions in every occupation from physicians to scientists, and from entertainers to philanthropists. I echo the words of the old saying, "We've come a long way baby!"
In my forty years serving as a Nazarene Pastor, I am encouraged by the fact that today, I see the most diverse Board of General Superintendents in the storied 114-year history of the Church of the Nazarene. We have men of color and a female providing strong Christ-centered leadership to our holiness denomination. However, we still have work to do at the district and local levels, if we are to be a denomination that is at the forefront of evangelizing and winning a growingly diverse American society to Christ. Our churches and leadership should be a microcosm of the population we serve and truly reflect the spirit of the Arminian-Wesleyan holiness message we preach and advocate.
Are we as a society and a denomination where we should be? Ah, most definitely not! But we certainly are leaps and bounds ahead of where we used to be. I thank God for the progress that has kicked open the doors of opportunity for yours truly and the scores of leaders that are exploding on the scene behind me. It was fifty-five years ago, when the poet, singer, and entertainer extraordinaire, Mr. James Brown, sang these words of affirmation, admiration, and adulation to and for the Black community, "Say it loud, I'm Black and I'm proud"!


Dear Pastors & Leaders,
Happy New Year! The purpose of this letter is to inform you of a couple of key upcoming events that our Black Strategic Readiness Team (BSRT) has planned just for you.
A special Minister & Mates retreat is planned for you from Monday, April 17 to Wednesday, April 19, 2023, in the beautiful historic city of Greenville, South Carolina. Greenville is home to the Greenville County Museum of Art with works by Southern artists spanning several centuries. It is also home to Falls Park on the Reedy, which has riverside gardens, a suspension bridge, and beautiful waterfall views. There is also a wide range of restaurants within walking distance of the retreat hotel. 
This retreat is specially designed for our pastors and leaders of our Black and culturally diverse congregations to gather for retooling, inspiration, and fellowship. Minister Cassandra Trotman will lead the music while Pastors Todd & Roshanda Womack will lead the breakout sessions. Olivia Metcalf, district superintendent from Upstate NY, will serve as our keynote speaker. We will provide a $100 grant toward lodging for the first 40 couples that register. The registration cost is $25 per couple. Please register at this link.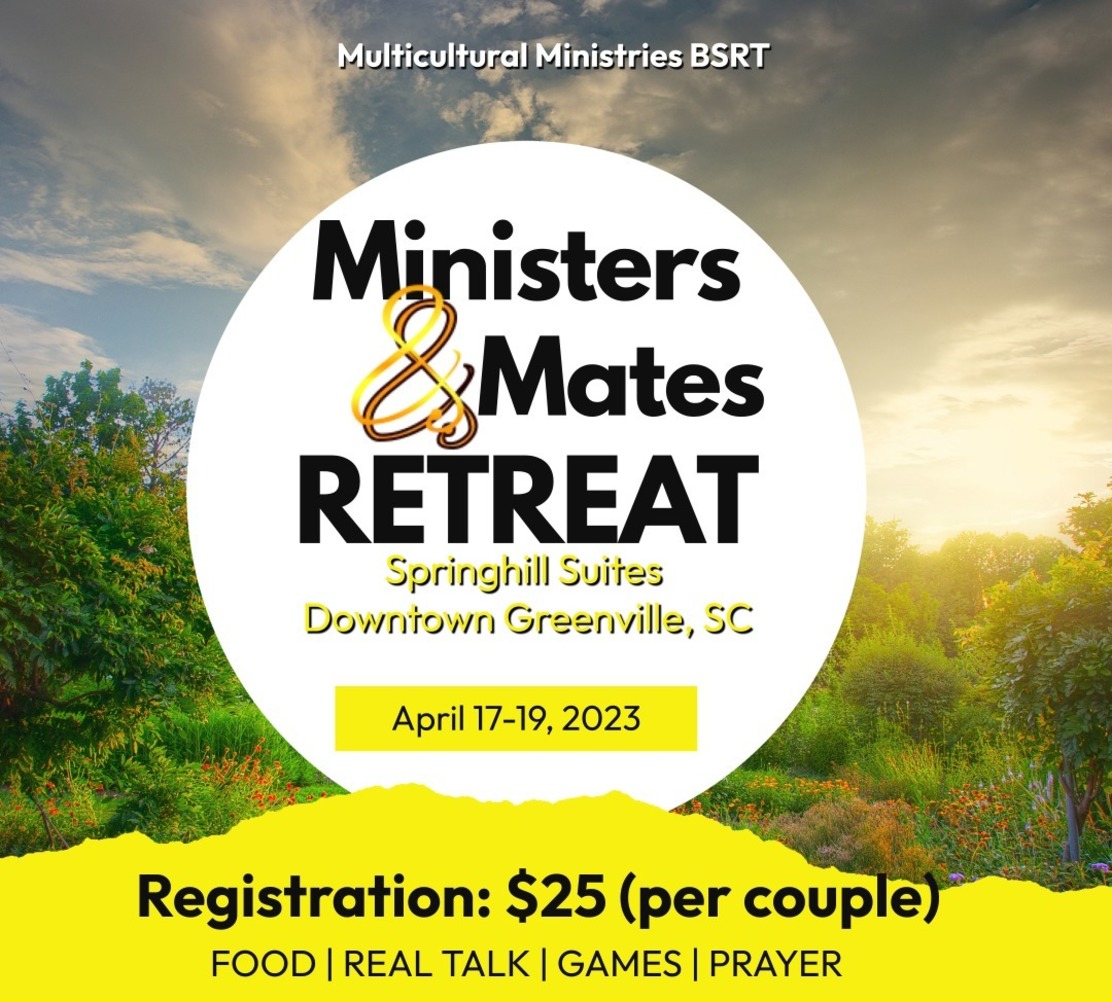 The SpringHill Suites Greenville Downtown at 200 E Washington St, Greenville, SC 29601 is hosting our retreat at a special group rate of $169 per night plus tax. The last day to book your reservation is March 27, 2023. The hotel phone number is (864) 720-2901. Please make hotel reservations online by clicking on your group discount link here. Self-parking is $7 per night. Airport shuttle is complimentary. Shuttle reservations must be made with hotel 48 hours in advance.
Finally, the BSRT and Shepherd Community Church are co-sponsoring a pre-General Assembly service Thursday June 8, 2023, at 4107 East Washington Street, Indianapolis, Indiana. Dr. Fili Chambo, general superintendent, will serve as the guest speaker for this event. A fabulous dinner will be served at 5:30 PM (no cost), while services will begin at 7 PM. In order to adequately prepare, we are asking that you register for the dinner. Additional info will be posted on our Black Ministries site in the upcoming weeks. 
In His hands,

Charles A. Tillman, Sr.
Dr. Charles A. Tillman Sr.
Black Ministries Facilitator
Engagement with the Black Strategic Readiness Team
The Black Strategic Readiness Team (BSRT) was established by the 1968 General Assembly (then named the "Black Council") as a resource to help develop strong Black leadership and to guide the church regarding issues of race. Throughout the intervening years, they have worked tirelessly for the Black Church of the Nazarene in the United States. The names and faces of the Council have changed, but today, the members are second and third generation Nazarenes who have a deep love and commitment to the message of scriptural holiness and the Church of the Nazarene.
Organized by the BSRT and supported by the USA/Canada Region, a National Black Nazarene Conference meets bi-annually and celebrates the life and work of the numerous Black Churches of the Nazarene in the United States and Canada. Desiring to enhance the commitment of the denomination to Black Nazarenes and their communities, the Board of General Superintendents has been specifically engaged for the last 18 months in strategic planning and prayer with the BSRT. Additional funding has been provided to Black ministries to help foster real and lasting change for the future of the church.
Choose a language below to continue reading this article from the Board of General Superintendents.
English
Español
Português
Français
한국인
Statement Toward Racial Justice and Righteousness
Black Strategic Readiness Team
Church of the Nazarene USA/Canada
Click here

National Black Nazarene Conference COVID-19 Statement
Due to the health and economic impact of the coronavirus, I am sorry to inform you of the decision to cancel the National Black Nazarene Conference.
Participants who have already registered will receive a full refund to your credit card within 7-10 business days. No action is required to receive the refund.
We invite you to continue to join us in praying for the individuals and families impacted physically and financially by this crisis, as well as for the frontline healthcare and social service workers who are responding to it. We strongly urge you to continue to do your part to minimize the spread of the disease; be a good neighbor to those who are suffering and offer support to those who are most vulnerable.
If you have additional questions, please contact Dr. Charles Tillman, Black Ministries Facilitator, or Rev. Janice Ballard, our Global Health Consultant.
Be safe, and continue to look to Jesus Christ, our living hope.
Meet our Black Ministries Strategic Readiness Team (SRT)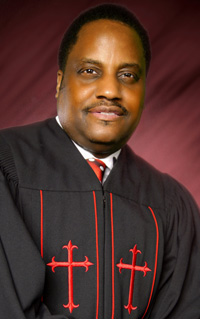 The Black Strategic Readiness Team, led by facilitator Dr. Charles Tillman, meets annually to pray, plan and strategize for their perspective ethnic group in the USA/Canada.  The team is comprised of Black pastors that have been approved by their District Superintendent and the Multicultural Ministries Director.
Click here to contact the team facilitator. 
The Black Ministries Strategic Readiness Team shall help districts and local congregations in the following manner:
To provide a voice for African-American and Black members of the Church of the Nazarene.
To strengthen Black churches in the Church of the Nazarene.
To identify potential target areas where new congregations could be started.
To train and nurture leaders of our churches for gospel-inspired service to the Black community.
To provide support for institutions that strengthen our community.
To provide relevant ministry for our youth and young adults.
To empower laity for present-day ministry.
To create denominational and district partnerships for service and evangelism.
To be active advocates for racial justice at home and abroad.
To provide spiritual nurture for our members. To enhance clergy-lay ministry partnerships.
Mission & Strategic Plan of Action
Black Ministries exists to support districts, pastors, local churches, and leaders in the task of making Christlike disciples among Black groups in the U.S. and Canada. 
The mission statement for Black Nazarene Ministries is to help the Church of the Nazarene develop strategies for reaching black communities through the starting of new churches and the implementation of inclusive discipleship and culturally-specific leadership training programs. We articulate this mission through what we call Project H.O.P.E., or Helping Our People Evangelize. Members of the Black Mission Team help to create a focus group that is advisory in its capacity, visionary in its strategy, reconciliatory in its mission, and prophetic in its message. Here's our strategic plan of action:
Identify, develop, and recommend at least 25 emerging Black leaders in leadership positions on the Local, District, and General levels.
Declare the first Wednesday of each month for prayer and fasting for Nazarene Black Ministries, the BSRT, and the Black Ministries Facilitator 
Establish a partnership between Nazarene higher education and church placement through internships 
Start 20 new churches in four years 
Continue the National Black Nazarene Conference to encourage, support and equip our churches, leaders, and laypeople. Additionally, host the 2nd annual Black Pastors and Leaders Conference in 2019. 
Establish strong communication with the offices of Pensions and Benefits and Clergy Development to adequately inform Black pastors of helps and benefits.
 Black Ministries 2020