Welcome to the Nazarene Missional Church Assessment (NMCA) website. The NMCA is a congregational survey designed for Nazarene local churches and district superintendents. Its purpose is to help a local church assess its current ministry, and provide perspective for the task of creating a church action plan.
The NMCA is designed primarily for churches with 150 or less in average worship attendance. While churches of any size are welcome to utilize the NMCA, the length of the survey, and the fact that sampling is not recommended, increases the difficulty for large churches to complete the survey efficiently.
The survey is comprehensive, covering the areas of strengths and weaknesses, spiritual gifts, spiritual vitality, worship, discipleship, leadership, outreach, and includes questions concerning alignment with the mission and message of the Church of the Nazarene. It can be completed with no cost to the church or district. A 27-page report with graphs and discussion questions helps the pastor, DS, and local church evaluate the results. We have this listed below in both English and Spanish.
The local church should use the NMC Report to develop a church action plan. The completion of a church action plan, and its submission to the district superintendent, fulfills Manual paragraphs 121 and 129.4.
To use the NMCA please contact:
Rich Houseal
Research Services
Church of the Nazarene Global Ministry Center
17001 Prairie Star Parkway • Lenexa, KS 66220
1-800-306-9928 • direct 913-577-0652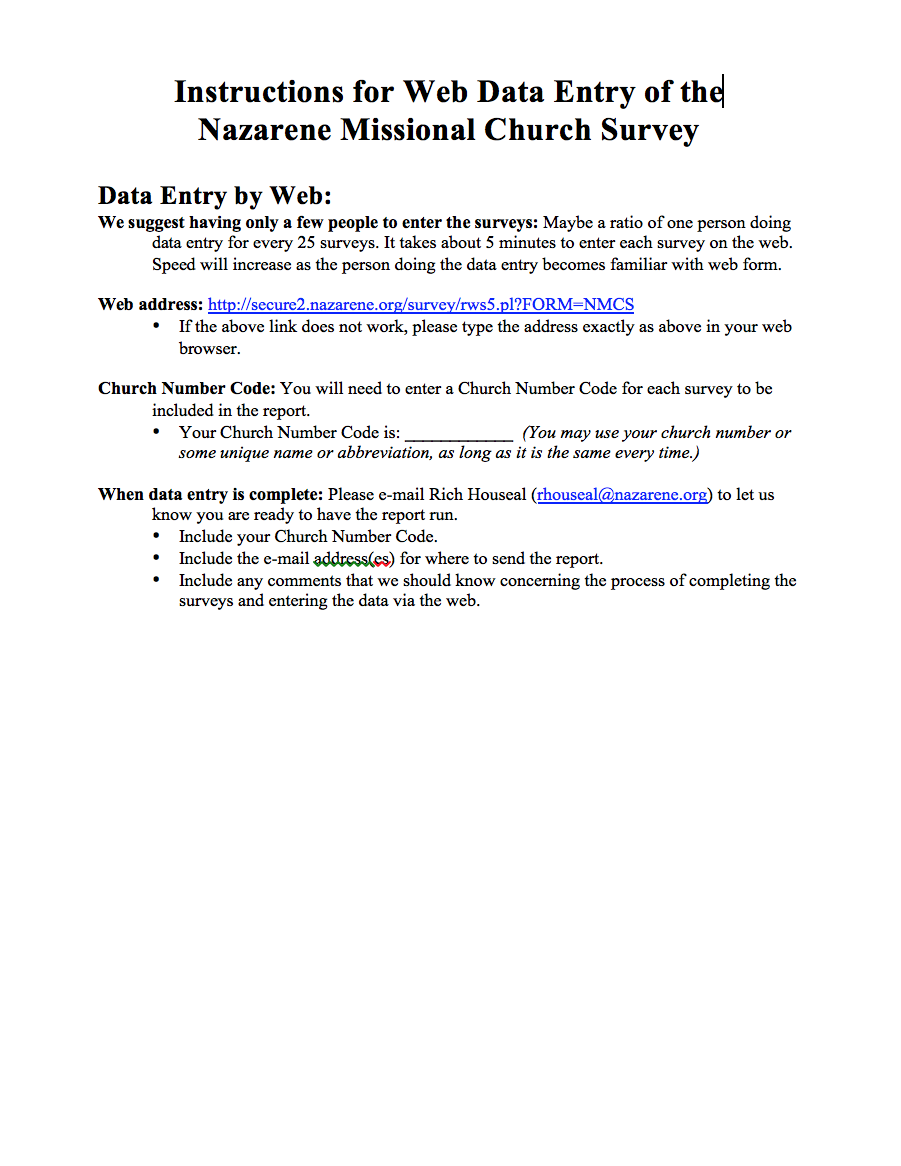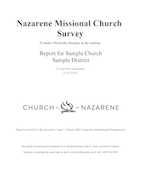 En Español 
Instrucciones para Administrar la Encuesta de Iglesia Missional Nazarena (Instructions for Administering NMC Survey)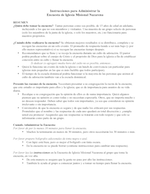 Instrucciones para Inserción de Datos por Internet de la Encuesta de Iglesia Misional Nazarena (Instructions for Web Data Entry)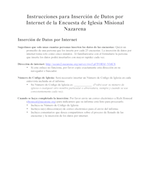 Encuesta de Iglesia Misional Nazarena (NMC Survey Español)